~ from Mary
It is with a heavy heart that I write this post.
Susan, Theresa and I LOVE Three Thinking Mothers.  We LOVE the community it has become.
Sadly, however, it is becoming difficult for us me to keep up with two blogs, home school, a piano studio, and family responsibilities.
When I dreamed about this blog last summer I immediately acted upon those dreams, not really thinking about the time commitment it would involve.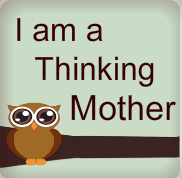 In many ways, I'm so glad I did act without thinking. Look at the community we have built.  We have over 100 home school blogs on our blog roll and the interactions and link ups we have each week have been meaningful and beneficial. My heart warms every time I visit a blog and see "I'm a Thinking Mother" in their sidebar.
After talking with Theresa and Susan about the need to make my life more simple, I told them I couldn't continue to blog at Three Thinking Mothers.  I offered the blog to them and just told them to replace me.
They have chosen, however, to take some time themselves, reflect on their goals for their blogs and have supported me ONE HUNDRED PERCENT. I am grateful for their friendship, and I am so grateful for all of you who have supported our blog.
I am not the kind of person that abandons something once I have started, so a large part of me feels that I have failed. I feel that I have failed my friends and failed to reach a goal I had for myself.
In reality, though, (when I really prayed about it) I think I have actually SUCCEEDED.   I have drastically cut time commitments online and in real life so that I can be the kind of homeschooling mom I want to be — not just the one I like to blog about.
Now, before I jump into anything I will ask myself:
How does this activity benefit my family?
How does this activity glorify God?
Have I been STILL and listened for God's voice and direction in this endeavor? 
Three Thinking Mothers isn't GOING AWAY… it's just going on a break. The blog will still be here – and at some point in time it may be resurrected, or it may just sit.       I know Theresa and Susan have talked about other ventures they might try… who knows what the future holds?
As for me, I'll still be at Homegrown Learners, trying to post about our home school adventures when I can … please stay in touch!  Please also stay in touch with Theresa and Susan.  Do you know how much wisdom they have to offer?   They are two smart women full of wonderful ideas and I learn something each time I visit their blogs.
As we approach 2012 I want to encourage all of you moms out there to really EVALUATE your online time and commitments.  I pray you find that happy balance and don't get yourselves in too deep. I pray you never put your online time ahead of your time with your children.
Most of all, I pray for moment upon precious moment with your children where you can just enjoy being homeschooling mothers!